[ Features | Specifications | Press Release | Reviews | Buy ]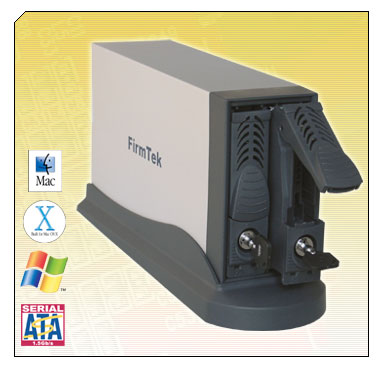 Dual-Bay Hot-Swap External Serial ATA Enclosure
The SeriTek/1EN2 is a rugged, dual-bay Serial ATA (SATA) external hard drive enclosure. It provides versatile hot-swap capabilities with virtually unlimited storage possibilities in a small form-factor package. Built from the ground-up as a true Serial ATA solution, SeriTek/1EN2 features a case made of aluminum for maximum durability and heat dissipation.
SeriTek/1EN2 extends Serial ATAís storage capabilities outside of the computer chassis with flexibility on par with USB 2.0 or FireWire 800 but with much higher 1.5Gbps transfer rates. Serial ATA Hard drives can be swapped in and out of the SeriTek/1EN2 enclosure within seconds.
Allowing for true end-to-end Serial ATA capabilities, SeriTek/1EN2 is compatible with external PCI to Serial ATA host adapters such as SeriTek/1SE2. The SeriTek/1SE2 two-port host adapter, like the SeriTek/1EN2 enclosure, is designed with two shielded Serial ATA ports which meet regulatory requirements for electrostatic discharge (ESD), electromagnetic interference (EMI) emissions, and susceptibility. This ensures that a good ground path between the cables and the connectors exists to prevent any ESD discharge during cable insertion or removal.
Provides physical lock and key security
Power and activity LEDs for each hard drive
High-performance storage data transfer up to 1.5Gbps (150MB/sec) per drive
Faster than USB 2.0 and FireWire 800
Dual hot-swappable 3.5" Serial ATA drive bay enclosure with removable trays
Additional trays are available separately for virtually unlimited storage possibilities
Built-in quiet exhaust fan for cool-running hard drives
Surpasses rotational vibration and heat dissipation requirements of high RPM drives
Fully RAID capable: Compatible with Operating System and host adapter based RAID solutions
RAID arrays can span across multiple enclosures
Works with PC and Macintosh computers with shielded Serial ATA ports running OS 8, OS 9, OSX, Windows 98/SE/ME/2000/XP/2003 and Linux
External power adapter offloads computerís power supply
One dual-bay external Serial ATA enclosure
Two removable hard drive trays
One enclosure stand
Two keys
Eight hard drive countersink-style hard drive mounting screws
Four clear rubber feet
Two external shielded Serial ATA data cables, 1-meter each
One universal power adapter
One CD-ROM containing the SeriTek/1EN2 user manual