[ Features | Specifications | Press Release | Reviews | Video | Buy ]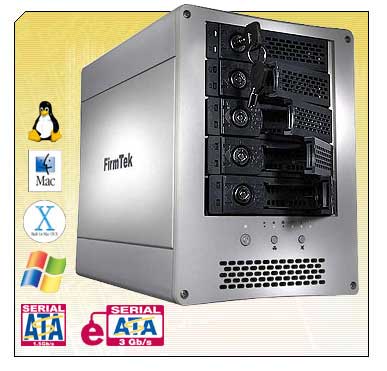 Five-Bay, Hot-Swap, External, SATA Port Multiplier Enclosure
Reduce Desktop Clutter: Obtain Substantial Storage Capabilities With Just One Port Multiplier SATA Connection! This enclosure requires a SATA PM compatible host adapter.
The SeriTek/5PM five-bay hot-swap enclosure provides a high quality SATA port multiplier enclosure design that delivers unprecedented performance and durability. This new SATA PM enclosure utilizes an innovative backplane design with no internal cabling which helps to reduce EMI. It supports all Serial ATA hard drives including the newest 2TB drives with 3.0Gbps transfer rates as well as original 1.5Gbps Serial ATA hard drives.
The SeriTek/5PM chassis features an attractive design made from brushed & anodized extruded aluminum to keep weight at a minimum while maintaining structural rigidity. It includes a built-in server-class universal power supply and offers a special Heat Management System to ensure hard drives are kept cool & reliable while keeping noise to a minimum.
The new Heat Management System provides superior airflow throughout the chassis, by using a unique system of cooling vents, holes in the tray handles and perforations in each tray. The SeriTek/5PM utilizes two whisper quiet hard drive fans with easy access, user selectable, 3-speed fan control. All 3.5" SATA hard drive models do not provide the same cooling characteristics, so why should users be locked into a single cooling fan speed? The SeriTek/5PM is the only 5-Bay SATA PM enclosure that provides users with the flexibility of push button fan speed control. This feature allows users to easily modify the cooling and acoustical characteristics of the enclosure. In the unlikely event a fan fails or temperatures climb too high, the enclosure warning LEDs will turn red and a "mute-able" audible alert will warn the user. All of these controls are placed on the front of the enclosure for easy user access. It costs more to build the SeriTek/5PM enclosure with all of these user friendly features, but this is the type of quality and detailed design that FirmTek customers expect from an industry leader.
The SeriTek/5PM is compatible with virtually every external SATA PM host adapter on the market and supports data transfer rates of up to 300MBytes/sec or 3.0Gbits/sec per drive. The SeriTek/5PM easily supports the most demanding applications like uncompressed high-definition digital video creation & editing, computer animation, and digital photography.
About eSATA Connectors: eSATA (external SATA) connectors are the latest standards-based connectors designed for Serial ATA. They offer improved performance, special protection against ESD damage, EMI protection which meets or exceeds FCC and CE emission requirements, built-in retention springs, and support external shielded cables.
The SeriTek/5PM only requires a single eSATA-to-eSATA "I-shape" connector cable for supporting all five hard drive bays. This reduces cable clutter and allows the user to connect up to four SeriTek/5PM enclosures to a single 4-port SATA PM compatible host adapter.
Innovative backplane design with no internal cabling
Five hot-swappable 3.5" Serial ATA drive bay enclosure with removable trays
Provides physical lock and key security for each hard drive
Kensington Security Slot to secure chassis
Power and activity LEDs for each hard drive
Supports high-performance storage data transfer up to 3.0Gbps (300MB/sec) per drive
Faster than USB 2.0 and FireWire 800
Additional trays are available separately for virtually unlimited storage possibilities
Enhanced Heat Management System for cool, reliable operation with any size hard drive
User selectable 3-speed fan control provides user with custom acoutical/cooling options
Front-panel power switch with multi-second delay to prevent accidental power-down
Surpasses rotational vibration and heat dissipation requirements of high RPM drives
Fully RAID capable: Compatible with Operating System and host adapter based RAID solutions
RAID arrays can span across multiple enclosures
Platform independent: Macintosh, Windows or Linux computers with a compatible SATA PM host adapter
Works with any brand of SATA PM compatible host adapter. FirmTek host adapters that provide SATA PM compatibility include the SeriTek/2SE4 (PCI-X), SeriTek/2SE2-E (PCIe) and the SeriTek/2SM2-E ExpressCard/34 adapter for MacBook Pro and PC Notebook Computers.
The SeriTek/5PM may need to be turned off during disk configuration changes with some hard disk models.
One five-bay external SATA PM enclosure with integrated 220W Universal Power Supply
Five removable hard drive trays
Two keys
Twenty hard drive countersink-style hard drive mounting screws
Four clear rubber feet (pre-installed)
One external shielded eSATA data cables with "I-shape" connectors, 1-meter
One power cord
One CD-ROM containing the SeriTek/5PM User Manual

Optional Bundles Available:
Part number SATA-5PM-2SE4 includes one SeriTek/2SE4, 4-port PCI-X SATA PM host adapter
Part number SATA-5PM-2SE2 includes one SeriTek/2SE2-E 2-port PCI-Express SATA PM host adapter
Part number SATA-5PM-2SM2 includes one SeriTek/2SM2-E 2-port SATA PM ExpressCard/34 for MacBook Pro and PC Notebooks
500GB, 750GB or 1TB SATA hard drives are also available with enclosure purchases.