[ Features | Specifications | Manual (PDF) | Press Release | Reviews | Buy ]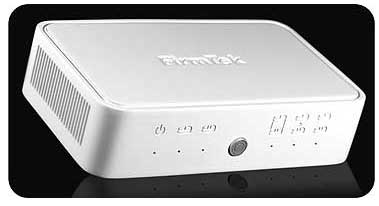 SeriTek/SpyderHUB
FirmTek Announces The SeriTek/SpyderHUB
Visit FirmTek April 14-17 at NAB Booth SL7729
FirmTek Announces The SeriTek/SpyderHUB: Perfect for MacBook Air
New eSATA converter allows up to two external eSATA hard drives to interface with a USB or FireWire computer port while supporting hardware RAID modes and adding Macintosh boot capability to eSATA enclosures.
FOR IMMEDIATE RELEASE
LAS VEGAS, Nevada (April 14, 2008)
FirmTek, LLC, the world's leading developer of Serial ATA solutions for Apple Macintosh and PC computers, today announced the SeriTek/SpyderHUB at NAB 2008. An industry first and perfect for notebooks such as the MacBook Air, the SeriTek/SpyderHUB converter provides USB and FireWire host connection options plus Hardware RAID, eSATA Mac OS boot capability and FireWire daisy chaining in an ultra-small external design.
The SeriTek/SpyderHUB changes everything!
This ultra small, four-ounce device is a great travel mate for computer users that want the ability to connect to external eSATA hard drive enclosures such as the SeriTek/2EN2. Imagine MacBook Air on the road with the capability to attach and boot from up to two eSATA hard drives at a remote location. Supporting both desktop and notebook computers, professional users looking for a way to expand their eSATA enclosure use to include computers that do not support a Serial ATA host adapter will find the SpyderHUB provides an amazing solution. System administrators wanting access to eSATA enclosures on any computer will love the expanded connectivity of the SpyderHUB. Computer repair facilities that wish to use eSATA hard drive enclosures for computer repair and backup will find the SpyderHUB is indispensable. In addition, Apple users wanting to boot Mac OS with their external eSATA hard drive enclosure will find the SpyderHUB can also provide this feature.
Instant Delivery
When professional users are creating videos, audio or other multimedia content they typically use the powerful Mac Pro. When the final presentation is delivered to the client, a MacBook Air, MacBook Pro, MacBook, iMac or Mac mini may be utilized. The SpyderHUB allows the same eSATA hard drives used in the CPU intensive creation process to also deliver the presentation on lower powered computers which reduces time, energy and equipment needs. The SpyderHUB also provides instant boot capability for external eSATA enclosures which provides another option for controlling the Mac OS system version utilized.
"Performance minded external eSATA users want the option to expand connectivity without having to accept the slower eSATA data transfer rates provided by typical 'Combo' interface enclosures," said Chi Kim Stanford, Vice President of Business Development. "We are following through on our continuing commitment to offer enhanced functionality, value and the highest quality products in the industry. The SeriTek/SpyderHUB provides a new innovative solution which expands eSATA enclosure connectivity while adding Mac OS X boot capability and maintaining the highest eSATA performance standards. The SeriTek/SpyderHUB allows eSATA enclosures to be used for high performance multimedia content creation on the Mac Pro and moved to a MacBook Air, MacBook Pro or another portable platform for delivering the presentation to the client."
Hardware RAID
The SeriTek/SpyderHUB can be utilized in JBOD mode as a tool for sharing data among systems using USB or FireWire host connections. It can also be used to create a hardware RAID. The SeriTek/SpyderHUB supports JBOD, RAID 0 and SPAN (concatenate) formats. The RAID 0 setting includes the capability to create a striped RAID set while SPAN allows two SATA hard drives to be combined into one large volume. Users can create a hardware RAID and partition it with the "Master Boot Record" format to provide compatibility with both Mac OS X and Windows platforms. The built-in hardware RAID support provided by the SeriTek/SpyderHUB expands the users RAID options to include multiple OS support.
Two eSATA + FireWire
When the SeriTek/SpyderHUB is connected to a computer via FireWire, it can also be used to daisy chain additional FireWire devices. This feature expands the storage connection options of the SpyderHUB to also include FireWire devices. Two eSATA converter ports and FireWire expansion provides SpyderHUB owners with a huge amount of connection options.
Provides Mac OS boot capability to eSATA enclosures
Allows content to be shared between different Macintosh and/or PC models
Provides FireWire Daisy Chaining capability
Operates using bus power (power adapter optional)
Expands eSATA direct connect enclosure connectivity to include FireWire 800/400/USB 2.0 host interfaces. (FireWire 400 requires optional adapter)
Features dual external eSATA and a FireWire device port
Features a FireWire 800 or a USB 2.0 host port
Power and activity LEDs for each hard drive
Supports JBOD or Hardware RAID 0/Concatenate modes
SATA II compliant; auto-negotiation between the latest 3Gb/s and legacy 1.5Gb/s Serial ATA drives
Attractive design
Features Kensington Security Slot
Easy to set up, easy to transport, compact and portable
Platform and Operating system independent; compatible with all Macintosh and PC computers running Mac OS X, Windows and Linux
Availability
The FirmTek SeriTek/SpyderHUB (https://www.firmtek.com/seritek/seritek-spyder) will be available in the second quarter of 2008 from FirmTek authorized resellers (P/N SATA-HUB). Specially priced complete bundles with optional cables and a power adapter will also be available. For more information or to purchase FirmTek products, please email sales@firmtek.com or visit FirmTek's website at www.firmtek.com.
About FirmTek
Headquartered in Silicon Valley and founded by former Apple engineers, FirmTek is a leading hardware and firmware research and development company focusing on Macintosh storage technologies. The company takes pride in developing the most reliable and most compatible high performance enhancement solutions offered through FirmTek's OEM and worldwide distribution channels. For information FirmTek's products and operations, visit FirmTek's website at www.firmtek.com or email info@firmtek.com.
FirmTek, UltraTek, AV- Tek, SeriTek names and logotypes are trademarks of FirmTek, LLC. Apple, Macintosh, MacBook, MacBook Air, Mac Pro, MacBook ProMac, and the Mac logo are registered trademarks of Apple Computer, Incorporated. Windows is a registered trademark of Microsoft Corporation.