[ PR | Features | Specifications | Performance | Advantages | Manual | Reviews | Images | Buy ]
Performance
The FirmTek miniSwap/U3 provides outstanding performance with 2.5" SATA hard disks or 6G SSD devices. RAID 0 average write performance of 788MB/sec. can be achieved when two miniSwap/U3 enclosures with 6G SSDs are connected to a 2012 or later Apple MacBook Pro, MacBook Air, Mac mini or iMac computer. The USB 3.0 based miniSwap/U3 provides an ultra high performance solution for mounting 2.5" solid state drives (SSD) or traditional hard disks externally. The miniSwap/U3 offers ultra-fast storage for all sorts of computers - even the Surface Pro.
miniSwap/U3 Speed Chart
USB 3.0 Port
Configuration
Performance
Enclosure

High Performance USB 3.0 ports are available on 2012 iMac, Mac mini, MacBook Pro and MacBook Air

Samsung 840 Pro 256G
443MB/s Read
433MB/s Write
&nbsp
&nbsp
&nbsp


Samsung EVO 1TB
435MB/s Read
424MB/s Write
OCZ Vertex 3 256G
428MB/s Read
422MB/s Write
OWC Mercury Ext 240G
424MB/s Read
430MB/s Write
SanDisk Extreme
420MB/s Read
427MB/s Write
Dual miniSwap/U3 RAID 0
&nbsp


Striped RAID - Two Samsung 840 Pro 256G
636MB/s Read
788MB/s Write
Striped RAID - Two OWC Mercury Ext 240G
618MB/s Read
764MB/s Write

Surface Pro with miniSwap/U3
&nbsp


SanDisk Extreme
396MB/s Read
363MB/s Write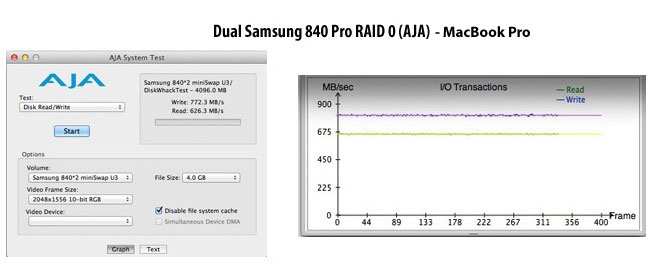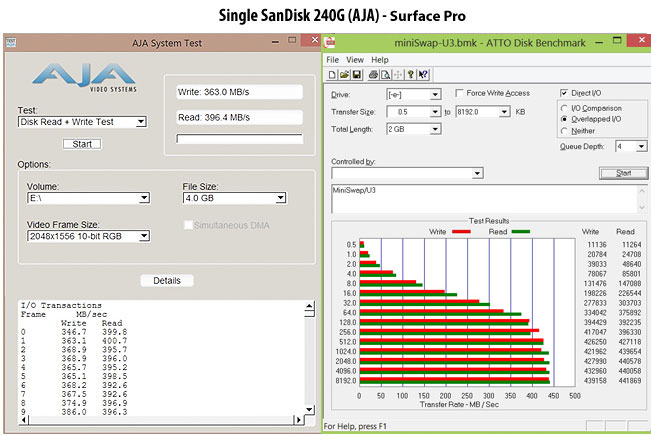 This information was produced by FirmTek, LLC for customers desiring an analysis of the performance options available with the FirmTek miniSwap/U3 and the 2012 Apple MacBook Pro running Mac OS X 10.8.2. The Microsoft Surface Pro was tested using both AJA and ATTO Disk Benchmark. Clicking on the performace data will provide a larger image. Results may vary with different SSD, HDD and computer operating systems.