[ Features | Specifications | Press Release | Reviews | Buy ]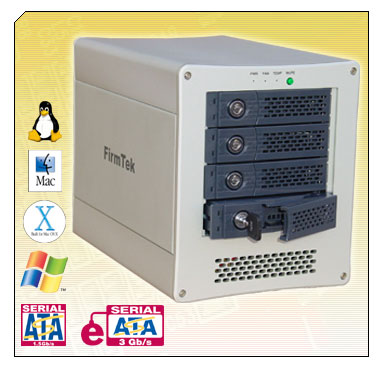 Four-Bay Hot-Swap External eSATA Serial ATA Enclosure
The SeriTek/2eEN4 four-bay hot-swap enclosure features the latest Serial ATA storage technologies and delivers unprecedented performance with cross-platform Macintosh and PC support. Utilizing an innovative backplane design with no internal cabling, the SeriTek/2eEN4 supports all Serial ATA hard drives including the newest drives with 3.0Gbps transfer rates as well as original 1.5Gbps Serial ATA hard drives.
The SeriTek/2eEN4 chassis features an attractive design made from brushed & anodized extruded aluminum to keep weight at a minimum while maintaining structural rigidity. It includes a built-in server-class universal power supply and offers a special Heat Management System to ensure hard drives are kept cool & reliable while keeping noise to a minimum. The Heat Management System provides superior airflow throughout the chassis, from special holes in the tray handles to the perforations in the trays themselves, and utilizes whisper quiet fans and special warning indicators. In the unlikely event a fan fails or temperatures become too extreme, fan or temperature LEDs will light and a "mute-able" audible alert will warn the user.
Compatible with virtually every external Serial ATA host adapter on the market and supporting data transfer rates of up to 300MBytes/sec or 3.0Gbits/sec per drive, the SeriTek/2eEN4 easily supports the most demanding applications like uncompressed high-definition digital video creation & editing, computer animation, and digital photography.
About eSATA Connectors: eSATA (external SATA) connectors are the latest standards-based connectors designed for Serial ATA. They offer improved performance, special protection against ESD damage, EMI protection which meets or exceeds FCC and CE emission requirements, built-in retention springs, and support external shielded cables.
The SeriTek/2eEN4 includes four eSATA-to-eSATA "I-shape" connector cables. Original style shielded SATA-1 "L-shape" to eSATA "I-shape" data cables will be available to order soon from FirmTek.
Innovative backplane design with no internal cabling
Four hot-swappable 3.5" Serial ATA drive bay enclosure with removable trays
Provides physical lock and key security for each hard drive
Kensington Security Slot to secure chassis
Power and activity LEDs for each hard drive
Supports high-performance storage data transfer up to 3.0Gbps (300MB/sec) per drive
Faster than USB 2.0 and FireWire 800
Additional trays are available separately for virtually unlimited storage possibilities
Heat Management System for cool, reliable operation
Surpasses rotational vibration and heat dissipation requirements of high RPM drives
Fully RAID capable: Compatible with Operating System and host adapter based RAID solutions
RAID arrays can span across multiple enclosures
Works with PC and Macintosh computers with eSATA Serial ATA ports (Original-style SATA-1 "L-shape" ports supported with special SATA-1 to eSATA cables)
Platform independent: Macintosh, Windows or Linux computers with external shielded Serial ATA ports
Backward compatible with original-style SATA-1 "L-shape" ports when used special SATA-1 to eSATA cables
One four-bay external Serial ATA enclosure
Four removable hard drive trays
Two keys
Sixteen hard drive countersink-style hard drive mounting screws
Four clear rubber feet (pre-installed)
Four external shielded eSATA data cables with "I-shape" connectors, 1-meter each
One power cord
One CD-ROM containing the SeriTek/2eEN4 User Manual